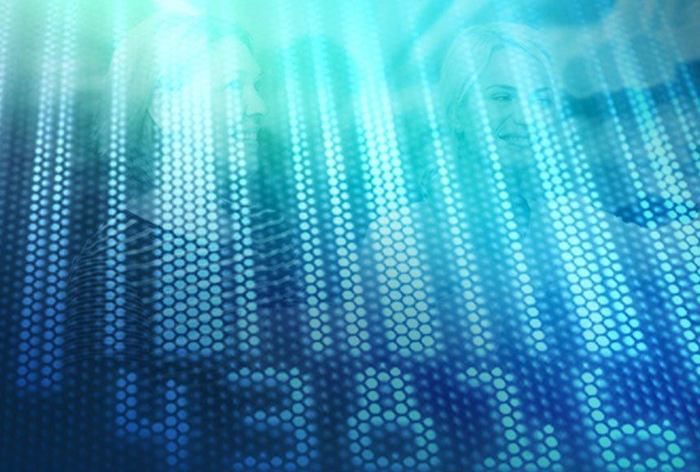 Pricer Plaza – cloud based platform for retailers
Managing store efficiency and customer engagement for an entire chain or a single store
Pricer Plaza is a sophisticated cloud-based platform for the complete scalable management, monitoring and integration of a digital in-store system.
It is an industry-leading central management system that enables central security, backup/restore, user management and template management. This allows the system to support a range of business and deployment models.
The system is primarily deployed as SaaS (Software as a Service), and supports the integration of in-store management solutions where internet communication may be less reliable or too expensive.
This enables both new and existing installations (depending on ESL hardware and firmware versions) to support all of the new and advanced features of the Pricer system such as use of flash, advanced price management, location and advanced apps across an entire chain without disruption.
Main advantages with Pricer Plaza
There are several main reasons to adopt a SaaS approach to management of an in-store system such as Pricer's:
1. ESL and Price Management has become a foundational IoT platform
An ESL based system is no longer a simple replacement for paper labels but a foundational platform for a series of use cases that can drive significant cost optimization, profitability gains and consumer engagement. Because of it's strategic importance, this core platform must be capable of being implemented, managed, tailored and continuously developed at a speed and with the reliability of every other core system of a digitalized enterprise.
2. Rapid Application Integration and Deployment with the management systems
Many more applications are being developed that will drive additional capabilities especially in the areas of consumer engagement and advanced analytics over the near-term future. These applications need to be rapidly and easily integrated with the management systems for core in-store platforms such as Pricer Plaza and therefore must be implemented in a cloud based system.
3. Chain-wide global deployment to react in a much more timely fashion
As retailers make decisions at a chain or corporate level rather than at an individual store level, the ability to deploy, manage and drive immediate decision-making across an entire chain is key to understanding and reacting in a much more timely fashion. This, in turn, drives consumer engagement and satisfaction meaning greater loyalty, predictability and flexibility.
4. Cost optimization combined with real-time decision making
Deploying as a SaaS solution rather than in-store licensed software solutions provides direct accountability and cost management benefits as well as enhanced flexibility. The subscription models can be tailored to specific implementations and feature sets allowing costs to be calculated and attributed with a high degree of accuracy – all while providing real-time decision making across the whole chain, at group, region or individual store level.
Subscription Model
Pricer Plaza uses a subscription model based on size of store, number of daily updates and ESL population. This model simplifies the understanding of the costs associated with these applications, enables the possibility to tailor the systems to your needs and provides the capability for advanced analytics, management and reporting to a far greater degree than more limited in-store management system capabilities.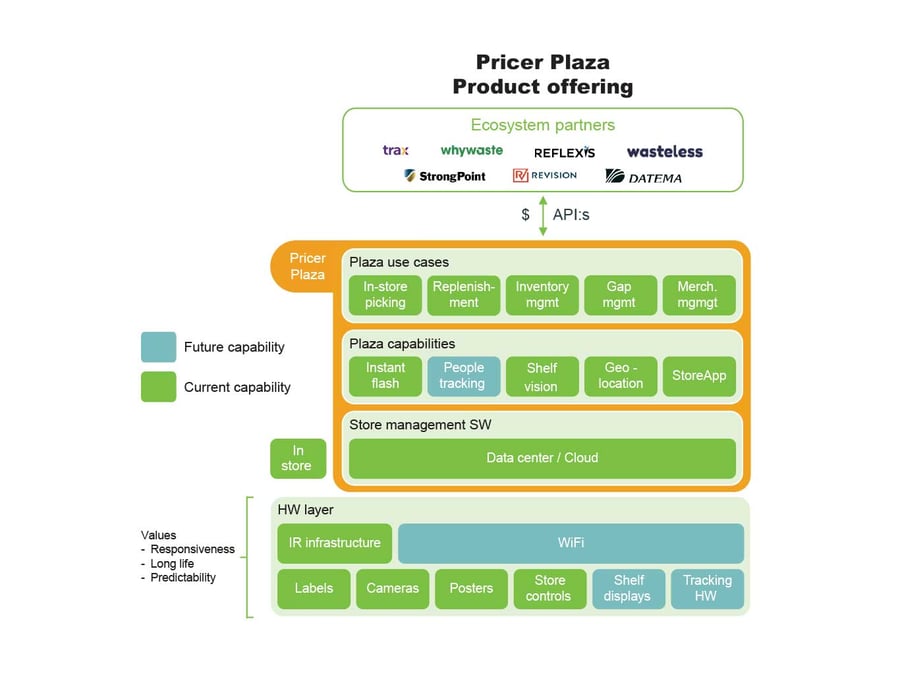 Architecture
Pricer Plaza is hosted on a cloud platform that hosts a set of physical assets, such as computers and hard disk drives, and virtual resources, such as virtual machines (VMs). The system uses a Kubernetes based architecture to enable automated deployment, massive scaling, and management. These resources are contained in highly secure cloud platform data centers around the globe.
This distribution of resources provides several benefits, including redundancy in case of failure and reduced latency by locating resources closer to clients. This in turn enables compliance with local privacy and hosting regulations and privacy laws such as location of user data to be held in a specific region such as the EU or US. This distribution also introduces some rules about how resources can be used together.
This architecture is therefore capable of delivering the highest possible availability, performance and data security (incl. disaster recovery) demanded for any business-critical system.