Trévi, a long-established and well-known leader in the pool and spa industry with a wide network of locations across North America and Europe, has chosen Pricer's solution for in-store automation and communication based on electronic shelf labels as part of its digitalization strategy to be implemented by JRTECH Solutions.

Trévi's brand-new eco-friendly pool and spa store will be entirely equipped with Pricer's SmartTAG Power+ graphic ESLs. The installation is handled by Pricer's partner JRTech Solutions, the largest supplier of Electronic Shelf Labels (ESL) in North America.
Trévi's latest development includes the opening of its inaugural eco-concept store in Mascouche, in Quebec, Canada. The store's main objective is to reduce the brand's environmental impact while enhancing the customer experience with sustainable practices. By incorporating Pricer's digital price tags, Trévi has chosen the longest-lasting label on the market with a proven four-fold battery expectancy over other labels on the market.
The solution will allow Trévi to ensure seamless synchronization across channels by automating real-time price adjustments and promotions, reducing paper waste, and resulting in a refined in-store shopping experience for customers.
"It was essential for us to find technology that would support our sustainability plan, but also respect the quality of service and level of responsiveness that has made Trévi successful for over 50 years with our clients. It wasn't just any digital smart label that could fulfill these requirements. JRTech's SmartTAG Power+ digital labels from Pricer are the only ones that have been able to meet our expectations," said Francis Laliberte, Deputy Director General of Trévi.
"Not only did they stand out for the power of their advanced features to help our staff be more productive in their operational strategies, they also stood out for the reliability of their communication platform where, unlike radiofrequency or Bluetooth communication, infrared guarantees both an interference-free environment and substantially longer usage life of electronic labels."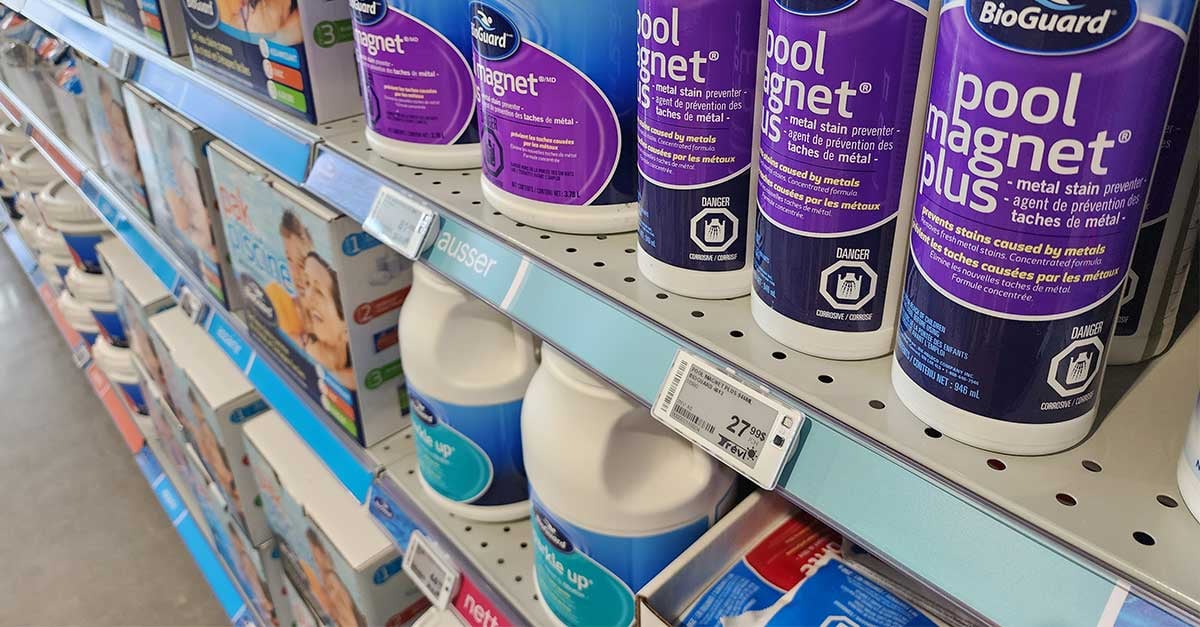 "Trévi and JRTech Solutions have both been local trailblazers in their respective fields for many years. We feel privileged to partner with Trévi on the digitization of their newest eco-store. With this collaboration, we have been able to demonstrate the reputation of our ESL technology is not limited to automating store operations. It is also based on its ability to deliver an eco-friendly management solution," said Diego Mazzone, President of JRTech Solutions.
"For over 15 years more than 1,000 retailers have already adopted our technology because we are the only one to offer an end-to-end solution with unmatched speed and exceptional battery life expectancy enabled by our infrared communication ESL platform from Pricer, making it the most environmentally friendly and sustainable option on the market. By working with such an innovative brand in the pool and spa industry as Trévi, we are proving once again that JRTech Solutions is the trusted provider to digitally revolutionize all retail verticals in North America."


About Trévi
Founded in 1972, Trévi is a Quebec-based company specializing in the design, manufacture, sale and installation of pools and spas. Well-established in Quebec for 50 years, Trévi is also known under its Cornelius, Dynasty Spas, Lacus Innovations, Maître Piscinier, Taïga Zone, Trévi Fabrication and Val-Mar banners. The company operates 11 corporate stores in Quebec and has 12 retailers. Trévi also distributes its products across a wide network of stores in Western Canada, the American East Coast, and Europe. For more information, visit www.trevi.com.
About JRTech Solutions Inc.
JRTech Solutions Inc. is a privately-held corporation headquartered in Montreal, Québec. JRTech Solutions Inc. is the leading Canadian Electronic Shelf Label (ESL) provider and the largest distributor of Pricer Electronic Shelf Labels in North America, involved in over 1,000 store installations with over 14 million labels installed since 2008. For further information, visit www.jrtechsolutions.com.
About Pricer
Pricer is a leading global technology company serving the rapidly growing smart retail market with in-store digital solutions that enhance both store performance and the shopping experience. Through electronic shelf labels, advanced technology, such as optical wireless communication and AI, and continuous innovation, Pricer offers the foundation for in-store communication and efficiency. The industry-leading Pricer platform delivers benefits from 30 years of deployment experience and is fast, robust, interconnectable and scalable. Pricer was founded in Sweden in 1991 and is listed on Nasdaq Stockholm.