Download a PDF version of this page!
CUSTOMER: Matvärlden
COUNTRY: Sweden
SECTOR: Grocery
CUSTOMER SINCE: 2021
For grocery store Matvärlden, doing the right thing should be easy. Electronic shelf labels make it easy to always have the right price and to live the core value: "the customer is king."
Challenge
Handle 30,000 different items from all over the world, from many different suppliers and with a variety of prices and currency fluctuations.
Solution
SmartTag Power+ (11,500 units), SmartTAG HD150 red (100 units), SmartTAG HD110 red (270 units).
Result
A quick, scalable and future-proof electronic shelf label solution lays the foundation for more efficient store operations and happier customers. The effects include secured, accurate gross profit, increased profitability, reduced administrative work for the store and products that are always shelved where they should be. The labels are elegant and clear to customers, leading to increased sales and ensuring that the price is always the same on the shelf and at checkout.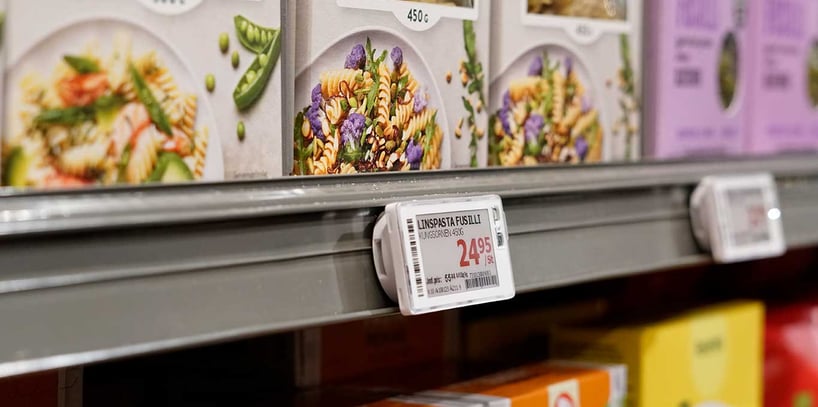 With two stores in Vällingby and Veddesta outside Stockholm, independent grocer Matvärlden has a clear business concept: "Be a pioneering game-changer in culinary culture and grocery stores." A pioneering mindset permeates all they do, from offering food from around the world to having a quick, reliable and scalable system for electronic shelf labels – a platform for handling everything from price to geopositioning.
"We offer global foods, and that's where we should excel beyond anyone else. Doing that requires a system that makes it easy to do the right thing. If it's too complicated, there's a risk of a breakdown in the enormous flow of goods. All employees should be able to use the PDA easily and connect electronic shelf labels so that customers can always be certain that the price will be right at checkout," says Per Ekstrand, part-owner and operations manager at Matvärlden.
Securing gross profit
Per Ekstrand became part-owner of the store in fall 2019. Managing a store with 30,000 products and all that entails in terms of price administration and currency fluctuations is a huge task that requires tons of administration.
Under no circumstances could I imagine going back to the time before we had electronic shelf labels. We work strategically and want to minimize administrative tasks and administrative waste. That makes an electronic shelf label platform a great tool. We can clearly see that we have a secured, accurate gross profit. The labels are also elegant and clear to customers, and that leads to sales as well. A long battery life is another important factor for functionality and ROI. We get to focus on what we're good at, and we don't have to spend any time printing out paper labels," says Per Ekstrand.
Getting it right the first time around
Clear values that permeate the entire operation guide daily work and management of the store. There is no doubt that everyone puts the customer first: someone is always available to answer questions, and the counters are staffed with knowledgeable employees. "Always right from me" is another important core value at Matvärlden.
One example Per Ekstrand points out is the simplification for Matvärlden's skilled checkout workers who often need to reshelve items left at checkout by customers. It isn't always easy to find the right place among so many global products, which are organized by origin: Asian, Turkish, Greek or English products each have their own shelves.
"With a PDA, they can just scan the product and walk straight to the blinking shelf label. It's fast and the product ends up exactly where it should be," he says.
Hassle-free collaboration
In addition to the solution itself, Per Ekstrand wants to point out the hassle-free installation carried out jointly in a single night.
"We were thrilled with the dedication of our contact at Pricer, Fredrik Sunesson, and all the Pricer staff and our partner Strongpoint, who got the job done and found solutions overnight. Along with my staff, it was a fantastic team. This was a really important part of the collaboration."
A vision for continued development
Given the core value "Always a little better than yesterday," Matvärlden is clearly a growing grocery store with plenty of drive.
Already in 2017, shortly after Matvärlden opened its first store in Veddesta, north of Stockholm, the store was named Store of the Year at the major industry event Dagligvarugalan (Grocery Gala), and the statement read: "This year's store understands its role in the market and has created their own personal style, thus becoming a destination worth a detour. The well-tended store makes it easy and inspiring for customers to visit, and together with an exciting and evolving product assortment, they are breaking new ground."
The platform for electronic shelf labels gives the store access to several future-proof functions beyond price automation, restocking and stock information. The system can also be used to streamline the process of packing online orders through Click & Collect.
"Demand is huge for our business concept and our comprehensive offering of a wide range of global and Swedish foods, so we still have a lot to do in that area. But of course, we're looking ahead to see how we can offer our customers an e-commerce solution a little further down the road," says Per Ekstrand.
Enter your email below to download a PDF version of the page