Download a PDF version of this page
Customer: Lifvs
Country: Sweden
Partner: StrongPoint
Industry: Groceries
Number of stores: 27 (90% with Pricer)
Number and type of labels: 450–500 labels/store, SmartTAG Power+ (incl. one base station and one transmitter per store)
Customer since: 2019
Where small, unprofitable stores see problems and are shutting down, Swedish Lifvs sees opportunities and is shifting into gear. Lifvs is currently Europe's largest unmanned grocery store chain. The modern technological platform that they developed creates value for shoppers and soaring customer satisfaction.
In just a few years, Swedish start-up Lifvs has gone from 0 to 27 stores, and more are opening all the time. The concept is based on the technological platform that they developed, in which cloud-based electronic shelf labels (ESL) are a key component.
The business concept is simple: small, unmanned 24-hour grocery stores with everything a customer needs in locations that need it the most. An app is all the customer needs to open the store, scan items and pay. And customer satisfaction is high: the platform has been developed to enhance customer loyalty and satisfaction through a unique online and offline experience.
The process is simplified for shoppers by the standardised store concept and the use of the technological platform to handle everything at the store.
"Our software is connected to various IoT devices, that is, all the technology in the physical store – everything from shelf labels, doors, the alarm and screens to temperature-controlled boxes. From the start, we knew we wanted ESLs to be able to control the system from the central office," says Daniel Lundh, founder and COO of Lifvs.
Lifvs had initially chosen another supplier with a cloud solution, but when Pricer launched the Pricer Plaza cloud solution, Lifvs switched over. In Sweden, Pricer's sales and installation take place through the partner StrongPoint.
"I really appreciated the thoughtfulness in sales, and the relationship we developed with StrongPoint and Pricer," says Daniel Lundh.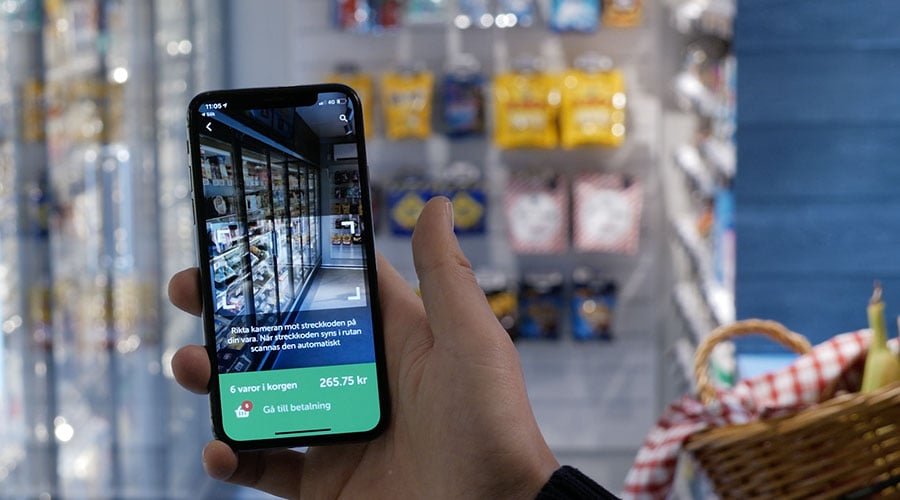 Economies of scale are essential
Lifvs opens stores in locations where traditional stores have shut down, usually in smaller towns, so there is potential to reintroduce service.
"Our entire business model is based on being able to retain a price level for consumers, which means we need to be able to control costs. We do that through a smaller store with lower rent and fewer staffed hours, which lowers our staffing costs. On the other hand, we do have costs for all the technology in the store, including ESLs. But at the same time, everything the staff doesn't have to do lowers our ongoing operating costs. By creating economies of scale, we should be able to survive on a smaller customer base than traditional stores were able to do," says Daniel Lundh.
ESLs also make things easier for consumers.
"With our technology, you scan the item you want to purchase. But on some packages, maybe the barcode is damaged. So we've also put the barcode on the shelf label, so that it can always be scanned."
Unified commerce platform
Lifvs' entire system is based on the technological platform and built-in artificial intelligence (AI). At the core, this is the system that truly makes Lifvs stand out from other players.
"For example, the system can anticipate when we need to place orders to minimise obsolescence and food waste. The platform is what's called a unified commerce platform, where the customer can move freely between different channels, online and offline, and all valuable insights are collected in a single data point. This means we have access to all data about the customer, no matter where the customer interacts with us – in the store or in the app. In addition to efficient store operation, this also allows us to personalise our marketing and communication with the customer, which customers ultimately appreciate.
For evidence that customers are satisfied, look no further than the 82% of users who allow push notices in the app – simply put, they want to receive communication because it's relevant and targeted." Another example is the opening rate of mailings.
"We have an opening rate of 32%, compared to the 10% industry average. Our Net Promoter Score, NPS, is 62 percent."
Daniel mentions a major industry player that is usually a leader and that has an NPS around 20.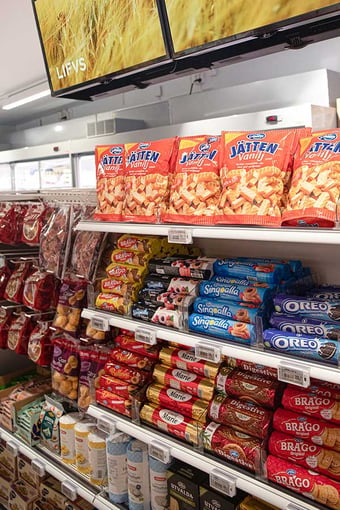 Adapted assortment based on collected data
For the store, access to this valuable data also means continuous total oversight of the selection and sales.
"We're building a chain in which we need to be agile with our rotation of goods; we should be able to quickly exchange and adapt our selection. It's easy to load a new item into the system and the information automatically goes directly to the ESLs in the stores. This can be done at different levels, areas and clusters, and removes unnecessary labour hours for store staff," says Daniel Lundh.
Challenge
Lifvs needed an efficient and scalable cloud-based solution with electronic shelf labels for the large-scale operation of unmanned grocery stores in small towns.
Solution
A platform with the Pricer Plaza cloud solution for central control of electronic shelf labels in a large number of stores.
Result
To the modern technological platform developed by Lifvs, an electronic shelf label system was added, creating value for shoppers and soaring customer satisfaction.
May 2021