While retail has always been about constant change and innovation, the Gartner 2023 CIO and Technology Executive Survey shows that many retail CIOs have never faced the level of disruption in macroeconomic conditions that we are experiencing now.
At the same time, IT budgets on average are expected to increase by 7.4 percent this year. What does this mean for your operations and what´s on the horizon? We look at some of the key trends we think will influence retailers in the coming period.

1. New era of in-store digital retail media
The need for retailers to improve the in-store customer experience combined with new innovations in digital signage has led to the beginning of a new era in in-store digital retail media, involving digital signage and many different types of displays.
In the past in-store retail media has often been fairly unintelligent in its execution and as a result, perceived as irrelevant by many customers. But advances in smart shelves and interactive displays have created the conditions for a better experience, where retailers can track and tailor the messaging across the store and show customers relevant information and inspiration when they need it.
This opens new ways for brands to connect with customers at the point of purchase and for retailers to further monetize the signage in the store. In fact, in-store retail media spend is predicted to grow from USD 8.4 billion in 2018 to USD 19 billion this year. According to Gartner, 27 percent of retail CIOs will also increase their investments in digital media this year.
By offering brands opportunities to promote products and inspire customers, retailers can not only enhance the shopping experience and increase sales, but they can also make extra revenue from the featured brands.
2. Between a rock and a hard place we find digitalization
The rising costs of everything from gasoline and electricity to grain and TVs put pressure on consumers to spend wisely and it also put pressure on retailers to save margins by optimizing store operations. At the same time, retail labor is scarce and expensive in many markets.
In the last year, when inflation has peaked in many countries across the world, retailers have tried to adjust their prices to the new situation. But increased prices in stores have also increased scrutiny from media and decision-makers, calling out players in the retail industry and questioning their price hikes.
As a result, retailers have tried to find other ways to save their margins, digitalization being one of them. We predict retailers across the globe will digitalize further this fall. By enabling more automated inventory and replenishment management as well as more effective click & collect operations, it is possible to address the current margin squeeze without ending up in the spotlight.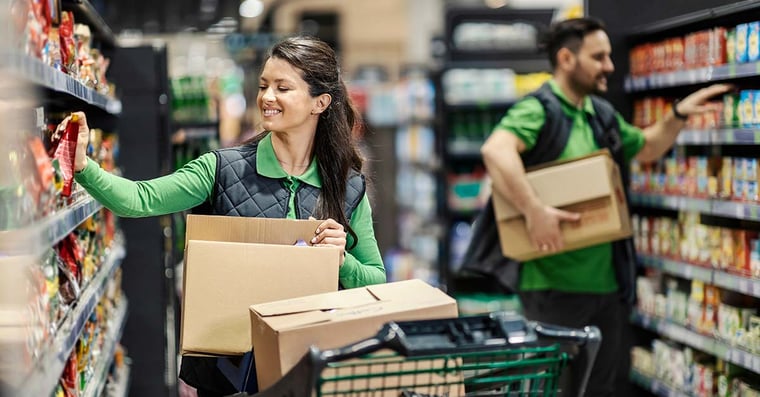 3. Could AI come to aisle 6, please?
To say AI is the future is a bit like saying the internet is here to stay. But even though we have been talking about AI for a long time and it is currently being developed at lightning speed, the actual implementations in stores, have not been as fast. We think this is about to change this year.
While AI and machine learning plays an increasingly important role in chain-wide forecasting and inventory management systems, it will also be more noticeable in the physical stores, for instance using new kind of cameras and sensors to gather data, detect empty shelves and predict consumer behavior.
There is also a chance retailers could offer AI-powered recommendations in stores, offering guidance to customers when they need it.
Numbers from BlueWeave Consulting estimate that AI in retail will grow from USD 6.21 billion in 2022 to USD 39.55 billion by 2029 and 31 percent of retail CIOs in Gartner's survey will increase their investments in AI/Machine learning this year. It could be worth asking your Chat GPT what it thinks you should do about it.
In closing
According to the survey from Gartner, retailers expect physical retailing to continue to dominate for the foreseeable future. But the only constant is change, and we believe those who can demonstrate their expertise in digitalization in general and areas like AI and in-store retail media, in particular, will be in a good position to grow and thrive this fall.