Pricer has equipped the stunning new Galeries Lafayette store on the Champs Elysées with its system based on electronic shelf labels. Pricer's SmartTAG range features innovative e-paper labels, which have been integrated into the store's modern and luxurious fittings.
Galeries Lafayette, an upmarket French department store group, owns 280 stores (10 of which are located abroad), accounts for over one million visitors per day and has achieved a turnover of 4.5 billion euros. In its one hundred years of existence, this high-end brand has consistently proven its capacity for adaptation and innovation.

Since 2016, Les Galeries Lafayette has undergone a profound transformation in order to meet the omnichannel challenges faced by retailers today. It is in this context of digitalization of stores and promotion of omnichannel retail that Galeries Lafayette have solicited Pricer for its new store in central Paris.
Unique technology for today's challenges and tomorrow's successes
Pricer's communication platform is based on optical light. This innovative technology is reliable, reactive and has a speed of data transmission that is unequaled in the current market.

Pricer labels enable real-time and reliable price updates, offer perfect readability and blend seamlessly with the store's high-end surroundings.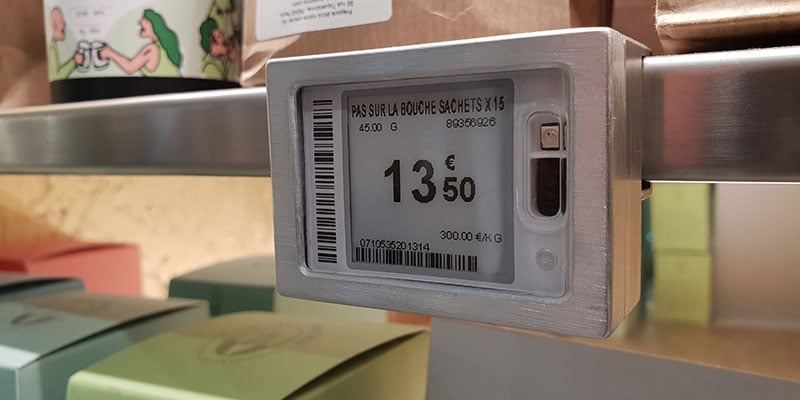 Digital labels: the cornerstone of omnichannel retail strategy
Price automation is the first goal when implementing digital labels in any store as it guarantees price exactitude by eliminating human error. Digital label solutions are, in fact, essential to omnichannel strategies as they facilitate flawless price synchronization across all distribution channels: web, mobile app and store.

Executing price updates in real time has become crucial, as it gives physical stores the capacity to track price evolutions dictated by e-commerce.
Satisfying the connected customer
To respond to the needs of ultra-informed and ultra-connected shoppers who are looking for new and innovative customer experiences, Pricer's digital solution enables Galeries Lafayette to free their valuable employees from tedious tasks such as changing paper labels.

The new vendors, also called personal stylists, can, therefore, concentrate on providing exceptional value and customer service by helping and advising shoppers before, during and after their purchases across all channels.