Today, retailers face many challenges, some of which have been unique during the COVID pandemic. Retailers constantly strive to improve their profitability through efficiency gains, for instance, by reducing time for replenishment, reducing the time and increasing the rate of picking for BOPIS (Buy Online Pick Up in Store) services, increasing availability on the shelf, being able to change the price of goods on the shelf in a timelier manner.
They also work to increase revenue and sales through pricing and promotional changes, engaging shoppers through in-store signage and promotions, merchandising enhancements, and adding app-based services such as location and route finding, product recommendations, and coupons. These capabilities can be made more effective by using Pricer's shelf-edge solutions.
Pricer works with leading retailers within grocery, consumer electronics, pharmacy, and DIY worldwide. The scalable solution for in-store communication is based on electronic shelf labels (ESL), digital signage, and shelf cameras. The solution enhances in-store efficiency, from replenishment and inventory to click and collect and waste management and the shopping experience. The ESLs allow for dynamic price changes and consumer engagement by providing information to the consumer at the shelf edge.
The solution is based on Pricer Plaza, a cloud-based management system infrastructure that enables business models of Software as a Service (SaaS). Pricer Plaza comprises a suite of services that provide sophisticated management of in-store infrastructure and services for individual departments and stores up to complete chains.
In summary, Pricer's solutions help retailers digitize critical instore processes, saving time and money and enabling a better shopping experience. Under the aegis of acting CEO Magnus Larsson, the company has continued to exemplify Pricer's brand promise of reliability, understated technical excellence, and commitment to delivering value to its customers.
Unique Tech Advantage
Pricer uses many techniques to thwart the competitors, such as unique transmission technology using the near-infrared band to reduce energy requirements of the labels, increase the scalability of the solution and deliver a robust and more reliable infrastructure than any competing solution.
Pricer is also the longest-lived organization in the ESL market and has seen many organizations join and leave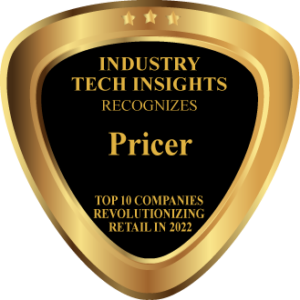 this fascinating space. So, while tactical technology, product, pricing, and sales changes are important, the depth of experience in addressing this highly complex set of requirements differentiates Pricer from its competition.
To come to terms with the issues of shelf availability, gap detection, and planogram compliance in the stores, the Pricer ShelfVision solution combines machine learning and computer vision with a sophisticated wide-angle camera.
The camera can automatically detect and identify electronic shelf labels and identify missing items on the shelves and give alerts to store staff through Pricer StoreApp or integration with existing staff management applications.
Finally, Pricer is a leader in developing and adopting new generations of e-paper, such as E-Ink's Spectra 3100 4-color technology that allows higher resolution and full vibrant 4-color deployment, bringing additional promotional and consumer communication options to retailers worldwide. This was recently demonstrated at EuroCIS in Düsseldorf at the end of May 2022, together with a series of developments with a range of ecosystem partners.
Working with Client Hand-in-hand
An effortless buying journey, bespoke support, a high-quality multi-channel experience, a more efficient employee pathway, and a generally more human-focused approach. The French SAMSE Group's L'Entrepôt du Bricolage stands out on the market for the excellence of its customer relations—proven when WizVille awarded it their 2021 Retail Customer Satisfaction Award in the Gardening and DIY category. The secret to their success? A management approach based on Symmetry of Attention, in which the adoption of Pricer's optical wireless communication-based ESL system played an essential role in boosting operational efficiency.
Over the past two years, L'Entrepôt du Bricolage in France has been evolving in a restricted environment, affecting its promise of excellent relations and high-quality service. For L'Entrepôt du Bricolage, excellence in customer relations depends on a well-calibrated internal organization. In 2010, the company was already reflecting on how it could ensure that its in-store teams were 100% available for greeting customers and best handling their requests.
However, the market at the time wasn't sufficiently developed in technological terms to put the electronic shelf label forward as a feasible solution for such challenges… Until Pricer introduced Instant Flash.
The initial tests with Pricer were carried out in 2018 in the Saint-Martin d'Hères (Isère region) pilot store, not far from Grenoble. However, the realization it triggered across the brand convinced L'Entrepôt du Bricolage to invest in electronic shelf labels from June 2019 significantly: they needed to capitalize on customer relations to carve out a niche in the market.
While L'Entrepôt du Bricolage was reviewing the organization of its stores, using teams dedicated to logistics (stocking products on shelves, order preparation, etc.) was the perfect opportunity for sales staff to focus more on advising and serving customers. L'Entrepôt du Bricolage's gamble of accelerating the roll-out of its electronic shelf label project across its entire network paid off. 32 out of 38 stores were equipped in six months instead of the anticipated three-year timeline.
The success was due to Pricer's responsiveness and support in finding pertinent solutions, both financially and strategically.
This article was originally published in Industry Tech Insight in June 2022.