The number of retirement-age Americans who work in retail has increased steadily since the 2008 recession, resulting in nearly one-quarter of retail workers being 55 or older*. This creates a demographic vulnerability for stores, who will be recruiting replacements in the years to come.
COVID-19 has only added to these vulnerabilities with rapidly increased and changing demands on staff, heightened fear of the consequences of exposure by older staff who feel more vulnerable, more staff on sick leave and staff who need to stay at home at times during the pandemic.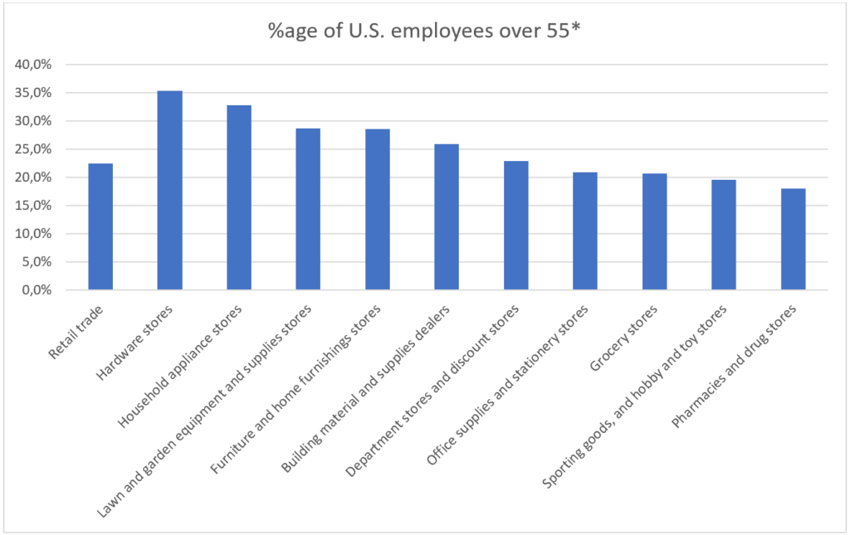 Selected store categories taken from Bureau of Labor statistics 2019*
In-store staff challenges
All this has made the case for increased store automatization more attractive than ever. To cope with increased demand, aging staff, sick staff and new staff, more processes need to be automated and simplified to allow flexible staff deployment and rapid staff expansion in times of heightened need.
Onboarding processes of new hires and temps need to be swifter and smoother. We also see how existing processes for services like click & collect need to be more efficient to keep up with the increased demand.
With solutions like store geolocation, flashing shelf signage and automated processes for services like click & collect, stores can scale up operations even with reduced or inexperienced staff.
Digital champions add pressure
Nearly all parts of brick and mortar retail are disrupted in one way or another by a digital champion entering the field. Those disrupters are data-driven at the core and have automation in their blood right from the start.
Existing retailers who want to stay competitive need to let go of ad-hoc non-scalable in-store solutions and think about how processes can be digitalized, scalable and automated.
From our experience in the field, we see great examples of this transformation from leading global and local brands, taking steps to manage staff demographics, changing consumer preferences and COVID-19-related challenges.
More to come on this and other subjects – but in the meantime please take a look at the following case studies and subscribe to our news and social media to make sure that you don't miss an update.