The US$625.70bn global beauty industry is getting a lift from technology in-store, explains Peter Ward Country Manager UK & Ireland, Pricer, to help tell a product story that must now embrace customers' ethical development, application, health and sustainability concerns.
While it should go without saying that every sector of retail is competitive, beauty has some distinct challenges of its own, not least the depth and breadth of the narrative it needs to build with its customers, and on top of that, the need to keep that narrative fresh. In this respect, beauty is more demanding than general fashion.
The extent of the competition should also not be underestimated. With access to a worldwide network of manufacturers, new players have lower barriers to entry than ever before, and are in turn greatly assisted by the proliferation of channels to markets, not least social media which remains relatively low cost on content production and advertising.
However, add to this the sheer number of celebrities and influencers pitching their own brands, competition has now reached the point where grabbing and holding the attention of the customer is harder than ever.
The battle for eyeballs continues in-store and in duty free outlets, where space is limited by its high cost, and availability of that space is largely dictated by the retailer, even allowing for a big investment by the brands themselves. Moreover, in many stores, visibility is potentially compromised by the fact that beauty may not have areas dedicated to it alone, with the unique exception of beauty halls in department stores.
However, lack of space does not fully explain why, given how much time, money and creativity have been invested in the brand as far as the back door of the store, there are so many gaps in the merchandising execution at the shelf.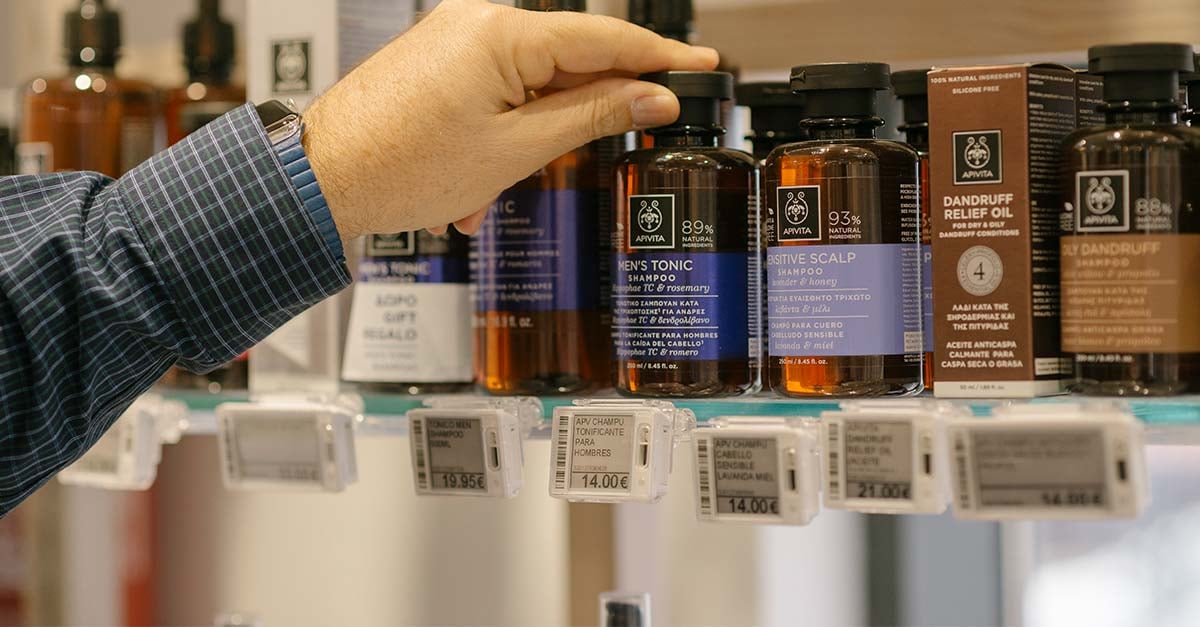 Retailers will need to fill in those gaps, particularly given the profit margins involved but also given the sector's growth. According to McKinsey, the beauty market in 2022, which they define as skincare, fragrance, makeup and haircare, was worth $430 billion, and is expected to grow to $580 billion by 2027, or 6% a year.
One of the biggest gaps is information about the products on sale. And while it is reasonable to point out that space to provide ingredient information is and will always be limited, consumers themselves are demanding more information than ever. Trust today is built on transparency and insight, not just around how the product is developed and tested, but also on its sustainability, which is as much about the contents as the packaging. And in the context of allergies and dermatological conditions, this information must also contain health messages.
Bluntly, what this all adds up to is, the ubiquitous paper label at the shelf edge is inadequate in that it cannot contain all the information customers demand, it cannot change that information quickly and it can let down the entire presentation that marketers and merchandisers have gone to so much trouble to promote.
The solution lies in a partnership between brands and retailers to use electronic labels at the shelf edge which can not only display rich product information as well as logos, and in colour, but which can be changed instantly to display timed promotional messages. The labels can also be flipped to display stock information for store staff to speed up replenishment.
Now, the partnership is going further with the advent of retail media whereby retailers use their own first party data to enable brands to advertise in store at the shelf and via digital signage, based on detailed information about consumer demand. For instance, beauty retailer, Ulta Beauty recently launched its own Retail Media Network, UB Media, offering brands advertising leveraging its Ultamate Rewards members, a 37 million strong community of beauty enthusiasts.
This is part of a multi-channel approach because the new network offers advertising access via offsite display, videos, social and influencer as well as onsite sponsored products. Onsite display inventory on Ulta Beauty-owned properties is one of several new, core offerings activated this year. This full suite of ad inventory, experiences, and value-added services will be supplemented with additional formats in the future.
Ulta Beauty and other brands are showing the way ahead, to bring immersive experiences to the shelf edge that drive engagement and ultimately sales for those retail outlets that cannot match the beauty hall journey.
This article was originally published in The INDUSTRY Beauty on October 30, 2023.